Real Estate started as a hobby for me, starting as a young investor coming from a background with ZERO Real Estate knowledge. Grew into a business where I am now completing 100+ Real Estate transactions a year, and winning awards such as 2019 Rookie Of The Year award, Exp Icons award, Chairmans Excellence Awards – Double Diamond. My passion shines through on a day to day basis with all clients I work with, and if you are reading this, I look forward to working with you!
What got you into Real Estate?
I wanted to build myself a future that offered freedom, flexibility and more importantly a career that I could make as big of an impact as my imagination would allow.
What can clients expect when working with you?
I am here to understand your wants and needs and deliver you a 5 STAR experience.
Something most people don't know about you?
I was in the Fitness Industry for 13 years as a Regional Fitness Manager which taught me the core values of working with clients. I have my Life Saving Award from a situation back in my gym days, ask me about it!
My favorite joke is?
Thor decided to pursue his career in Real Estate. He's going to be a real-thor …Haha?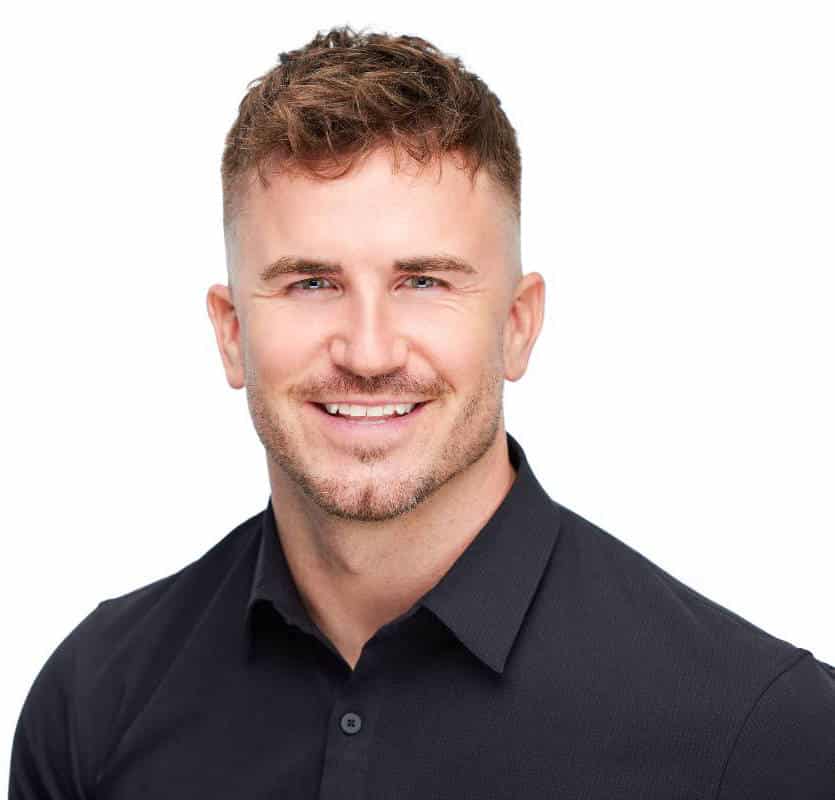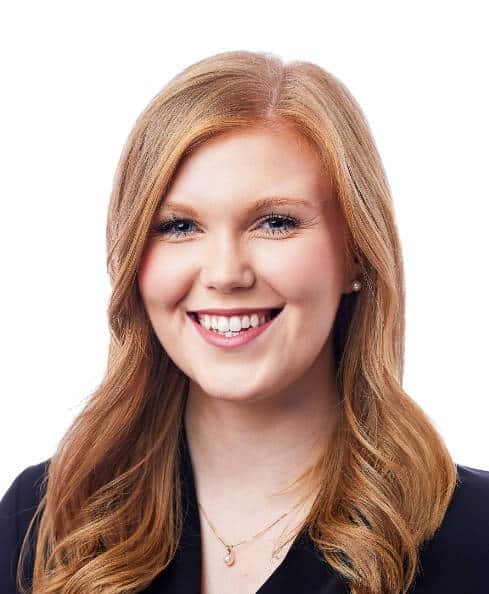 What got you into Real Estate?
My Real Estate career sparked over a year ago when I realized it was time to build a business that challenged my personal and professional growth. Growing up in a household of entrepreneurs, I have always desired to be involved in my community in a bigger way. My growing skillset in Real Estate compliments my background in Human Resources and a Bachelor of Commerce in International Business.
What can clients expect when working with you?
Whether you're a first time home buyer looking for direction or determining how to receive the best value for your home, my dedication to your property needs will assist you in achieving your personal property goal. I have a passion for design and I would consider matching the right property to the client as one of my strengths. Overall, my dedication to providing you a professional and personable experience is of utmost importance. 
Something most people don't know about you?
In between client and team meetings you can find me exploring South Edmonton trails with my dog Oscar or keeping up with my yoga practice in the studio! I love checking out new restaurants around the city and enjoying them with friends and family.
If there is one quote I live by it's, "No one is you and that is your greatest power"- Dave Grohl
I am grateful to work alongside my team at Calvin Realty and I look forward to helping you meet your needs in Real Estate.
Realtor & Investor - Commercial Multi-Family License
What got you into Real Estate?
I wanted to pursue a career where I can better myself everyday and make a direct impact on people's lives. The industry is ever-growing and has so many different avenues to pursue.
What can clients expect when working with you?
I bring knowledge of the fundamentals of home construction with my background in renovating properties. I am able to help my clients understand potential issues with certain properties and what upgrades would be beneficial. I also have firsthand experience with developing legal suites which greatly helps first time investors build their portfolios.
Something most people don't know about you?
I am left handed and have green eyes, which apparently only 0.25% of the global population has.
My favorite joke is?
What do you call a bear with no teeth?….. A gummy bear! 
Favorite passion outside of Real Estate?
I train strongman. Most people have seen those massive guys on TV that lift boulders and flip cars. That's what I do, just on a more realistic level.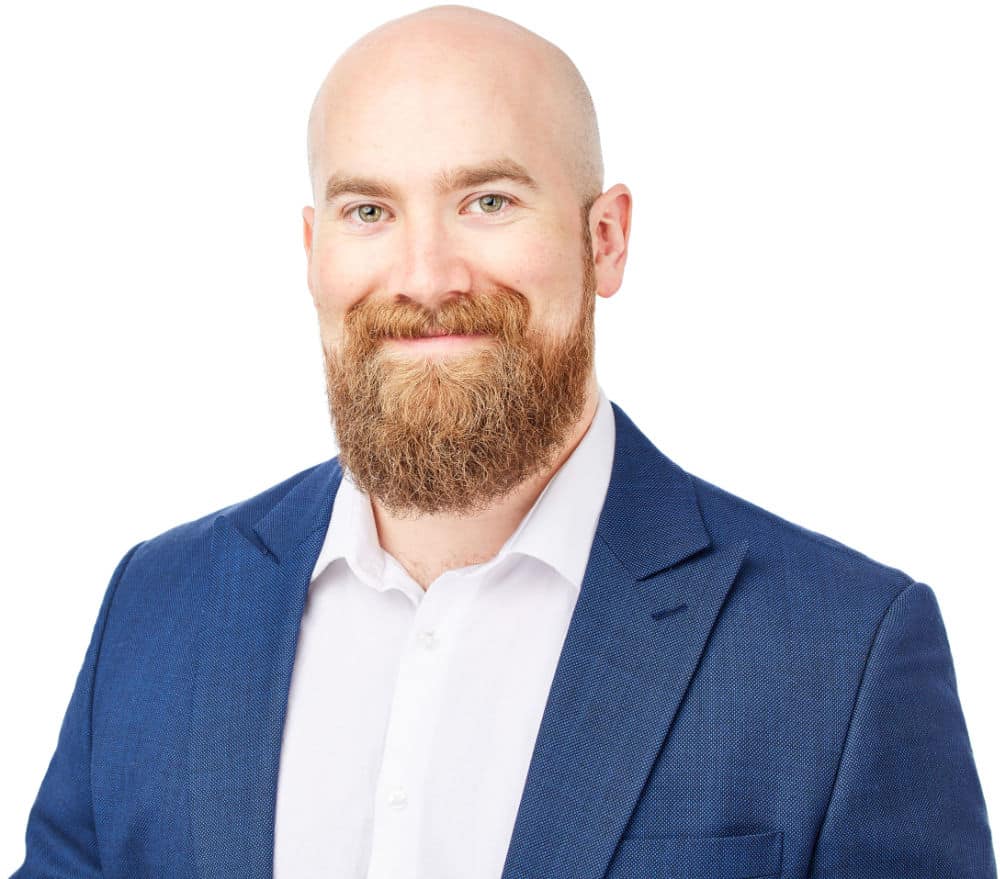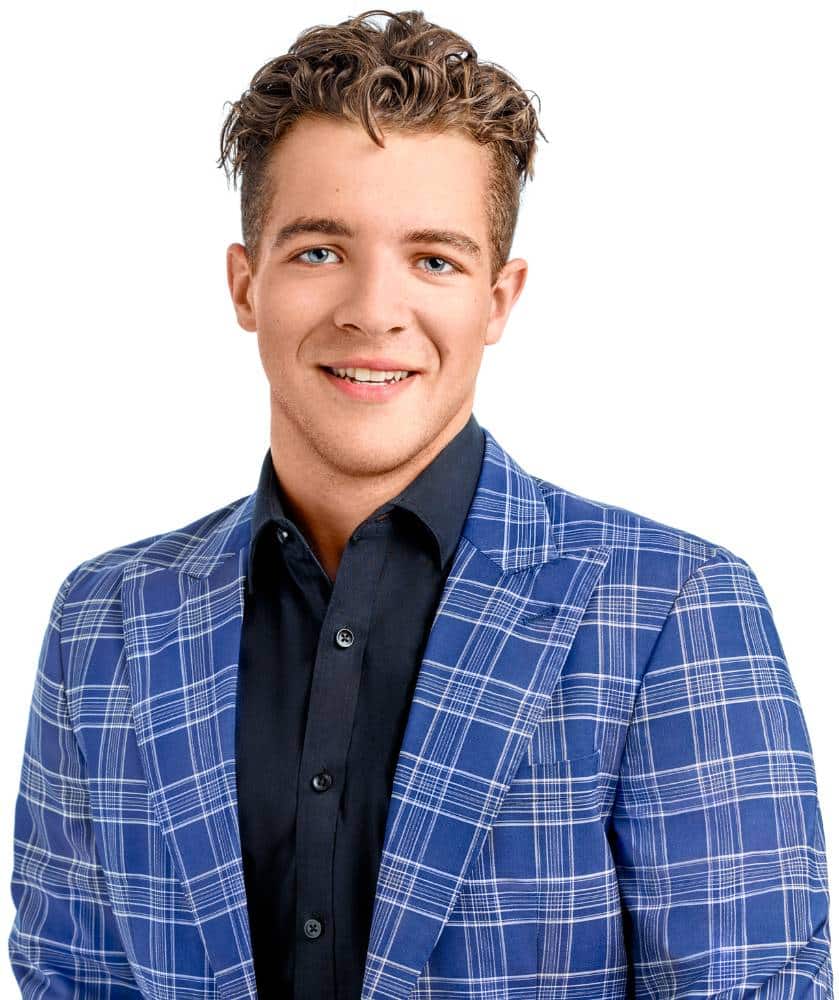 What got you into Real Estate?
I grew up around homes as my father has a construction company with a mix of residential, commercial, and industrial work involved. Since I started working in the construction industry at a young age, I figured now would be a good time for a change that will allow me to continue being around homes but will also permit me to see and help clients from a different perspective. I'm also extremely interested in real estate investing, so all these factors led to me becoming a realtor!
What can clients expect when working with you?
Clients can expect a knowledgeable background of the construction process and any needs they may have with their current homes or potential future properties. They will also be dealing with someone who puts their all into making sure that every one of their needs is met.
Something most people don't know about you?
I played hockey and baseball since I was young, and I now coach hockey! When I'm not working or coaching hockey, you can find me riding motorcycles, at the gym, or with friends.
Fun fact about me?
I travelled through 17 countries and 25 cities within 5.5 weeks.
I'm proudly involved with the Make-A-Wish Foundation.
I speak both English and French, and I am currently learning Spanish as well.
What got you into Real Estate?
After years of working hard throughout high school, I was lucky enough to jump right into the real estate realm! At just 18 years old, my friend and I had made enough money to put our very first down payment on a property! We quickly decided that this was going to be our future as it would allow us to have our freedom and generate income by renting half of our house to some friends of ours! From a very young age, the value of money was ingrained into me, and even though the future cannot be predicted, I'm a firm believer in making smart financial decisions tailored to your current needs and wants. Eight months after making that first purchase, we were so happy with our first property that we closed on a second! With the help of a third partner, we worked tirelessly to create our ideal rental unit complete with a legal basement suite for extra income flow!
My mentor through all this was my uncle, a very successful realtor, and I am so grateful for all his wisdom. I knew it was time to make the move and get licensed after having success in the market. Now that I am with Calvin Realty, you can expect all-around expertise in your home buying/selling experience, and I'm thrilled to have the best team backing me every step of the way!
What can clients expect when working with you?
I am available throughout the entire transaction for all my clients. The real estate journey doesn't have to be difficult, and I will be the one to answer those tough questions and to actively problem solve for the benefit of my clients. Being with an award-winning team is an honor, and I believe I can bring even more value with my knowledge of those real-life situations and hands-on experience so that any roadblock will feel like a mere breeze. With my Certified Journeyman Certificate, Red-Seal Endorsement (RSE), and years of on-site experience in the trades, you can rest assured that I will have your back.
Something most people don't know about you?
I have never played a computer or video game! Not for any particular reason, it was just never available growing up. To this day I always spend my time building trinkets in the garage or working on projects and being involved in indoor/outdoor activities. I have a passion for skiing, and I previously coached competitive swimming for 8 years!
Fun fact about me?
I have traveled to 26 countries and over 300 cities according to my Google maps timeline!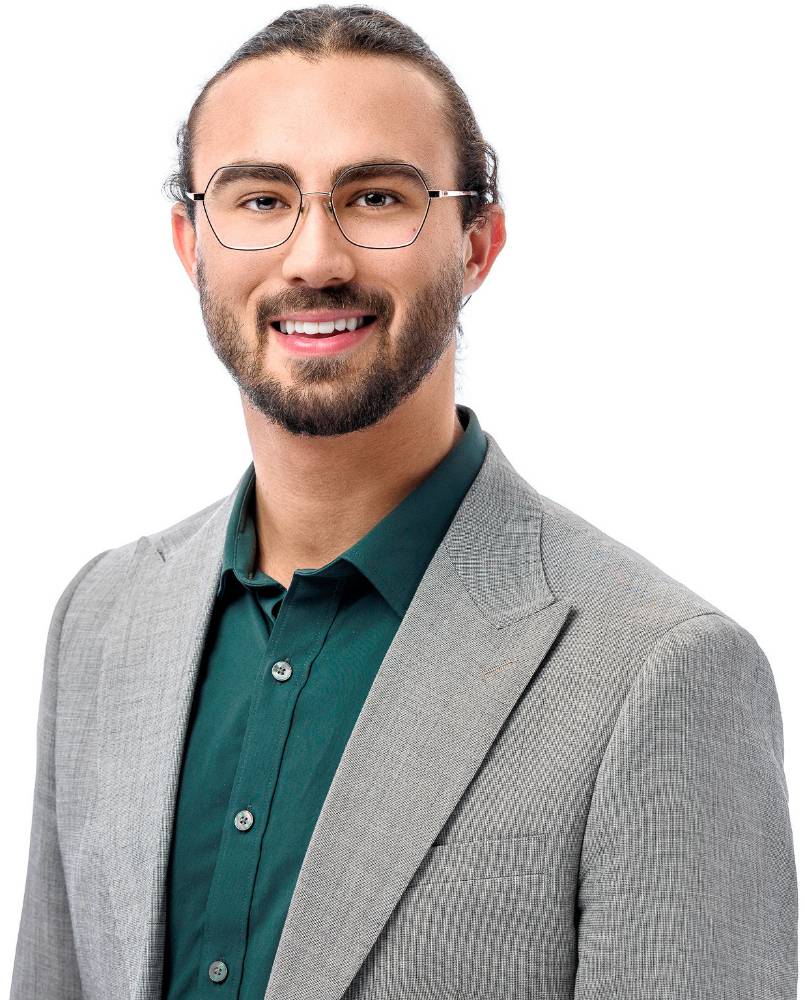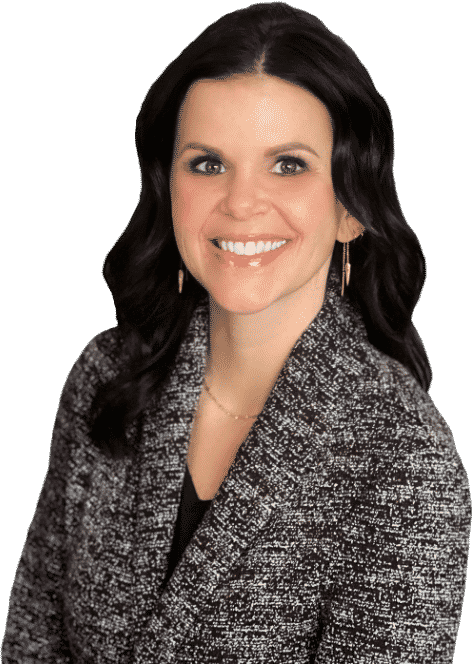 What got you into Real Estate?
Calvin and I used to work together in the Fitness Industry. One day after a few years of pursuing different paths, he called me up and told me that if I was interested, I could potentially become a valued asset on his amazing team, and here we are!
What can clients expect when working with you?
Clients can expect to "hear" my smile whether it be through email, text, or a phone call. I like to think I am a pretty positive person, and that is the energy I try to put forward each and every day. They can also expect prompt responses and efficiency! 
Something most people don't know about you?
Many people don't know that I have had 7 hip surgeries over the last 10 years thanks to a life-altering injury that took place in 2012. Another little "fun fact" about me is that I've been singing since I was about 5 years old, we had a family band for many years, and my brother and I actually have 2 EPs on iTunes.
Customer Care Specialist / Social Media Expert / Events Planner
What got you into Real Estate?
Real estate was not a field I had truly considered at first, but over time nothing seemed to be clearer. I realized that not only would my initial plan take forever to get where I wanted, but it may not even be worthwhile. Between a military posting having us move our family across the country to the many other struggles and worries that come with parenthood, I found that I needed to change the way I viewed a "career" in order to live up to the expectations I had for myself and for my family.
Over the last few years working in sales and service, I learned that life will always be unpredictable, but the one thing you can truly count on is yourself. How you show up, your mindset, how much you choose to keep learning and striving for better, is all up to you. This is what I love about Real Estate. You have more control over your success and for the most part, you are not being held back or limited. It can be difficult work; but so can life without hard work.
What can clients expect when working with you?
What you can expect when working with me is someone who will work hard for you through thick and thin. If you have any worries, hand them to me and let me worry for you. If there are obstacles, let me guide you around them. Upon getting to know me more, you can also definitely expect some sing-talking and possibly some bad dance moves for any victories both big and small.
Something most people don't know about you?
What most people in passing don't know about me is that I am a bit of a thrill-seeker. From cliff-jumping into the ocean, trying any size roller coaster, running obstacle races (and winning) etc, I'm always down. I love the thrill and adventure of trying new things and seeing new places.
My favorite joke is?
That is a difficult one, but here's one I still appreciate:
"What's the difference between a well-dressed man on a bicycle and a poorly-dressed man on a tricycle?"
– Attire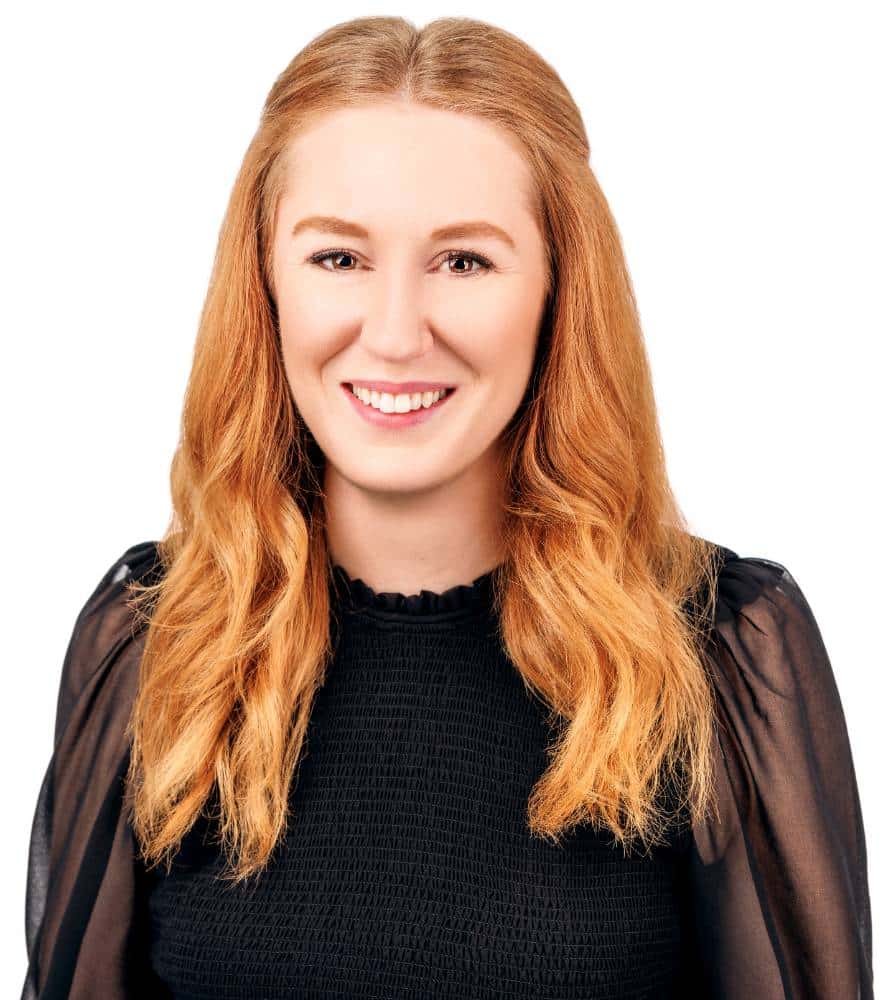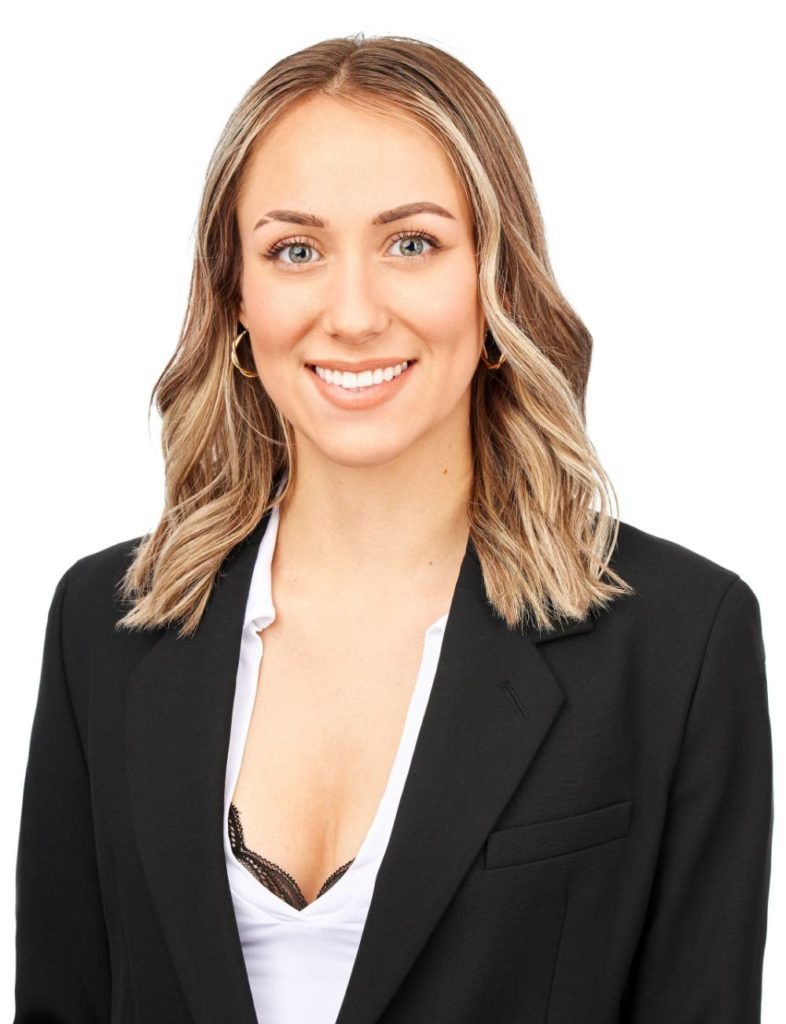 What got you into Real Estate?
Real estate has been in the forefront of my mind since I was a young gal. My parents owned a successful contracting company and they showed me the benefits of investing in multiple properties at a young age. However, I wasn't always in the realm of real estate. After 10 years of solely committing to the fast pace of the fitness industry as a Personal Trainer & Fitness Manager, I began diving into the even faster-pace industry of real estate after craving some insight into the housing market. Now, after seeing how high energy this space is, it's easy to see that it's most definitely where I belong. 
What can clients expect when working with you?
When I show up for my clients, I show up 100%, and my energy instantly speaks for itself. I am driven to give the most genuine, personable, and efficient experience to everyone that is in contact with me, while at the same time making the experience fun and enjoyable for everyone involved. Anyone working with me can expect to be pleasantly surprised by the ease and pleasure they will experience in seemingly challenging processes, because curating the most ideal client journey is my #1 goal.
Something most people don't know about you?
Investing has always been in my nature. Many people don't know that I have a secret antique coin collection that I've been building since I was 6 years old. I have coins dating back to the 1800s up to 2020, ranging in price up to $10,000 in value. The hobby started when I found a silver St. Georges nickel in my change from a grocery store, which was a $0.05 coin that was worth approximately $10 at the time. It felt like gold!
Fun fact about me?
I have been building and driving cars since I was 14 years old. I have a fully built and tuned track car that I race on Mondays during the driving season. If you like cars, come hang out at the track with me because we certainly have something in common!